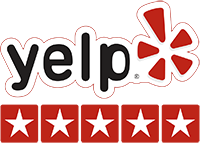 Govers Sidewall Shingling Yelp Listing Page
Be sure to view our "Filtered" reviews – All reviews can be found in these two sections.

Jess L.
Berkeley, CA
So a couple years ago, we bought this rambling old Berkeley cedar-shingle house. The shingles were in bad shape, mostly original, with a few poor repairs patched on here and there. It was looking pretty bad when we bought it. The house is listed on the Berkeley Historic Register and we wanted to bring back its former glory.
We settled on Oliver Govers' company after getting estimates from a few sources.  At all points during the estimation process he was prompt, responsive, and flexible. He came up with multiple options for replacing some of the shingles versus all of them if we wanted to space out the cost.  We were even a little bit flaky on our end because we'd just had a baby, but he was patient and worked around our schedules at all times. (I'm surprised to read that other review and can't help but think there was some miscommunications – Oliver was SO consistent in replying to us no matter what.)
The work itself was meticulous. For example, the visible nails on the corners are perfectly patterned and symmetrical. Also, our house is very, very strangely shaped and there are many corners of the siding that are only visible from a specific angle out of a specific window. Those odd bits were just as perfect as the most prominent front facing portions of the siding.
Oliver and his crew also proactively fixed many minor things as they worked – gutters, funky flashing around the chimney, etc. – even though that wasn't part of the job. Since we purchased our house we have had many people working on it… it needed a lot of TLC. Contractors, plumbers, electricians, landscape folk, etc. In terms of both the quality of work and how easy it was to work WITH them, Oliver's company was by far and away the best person we have yet hired to work on the house.
Since we had the house re-done I've become a bit of a cedar shingle nerd, and I've gotta say… the other companies installing most of the shingle siding around Berkeley just aren't doing work that's in Oliver's league. The bottom line is, if you have a shingled home needing siding replacement, you would be doing yourself a huge disservice not to call Oliver and get him on board.

Gabe W.
Brooklyn, NY
I totally cosign with Jess L's review. I could not recommend Oliver any higher. We were also totally in the middle of fixer-upper contractor madness & Oliver was by far the most prompt, cool & professional person we worked with. We ripped out all our old post-war asbestos siding & Oliver made our house look awesome. He also proactively took care of a lot of trim, siding & electrical (!) issues for us. He was also great at coordinating with our painting contractor. The neighbor said "You guys went from having the ugliest house on the block to having the nicest." Most of that goes to Oliver!

Carmelita R.
Berkeley, CA
Oliver's crew has worked extensively in the Elmwood neighborhood of Berkeley. We found out about him by word of mouth and looked at a bunch of his houses before contacting him. Our home was build in 1905. In addition to total re-shingling, it needed to have insulation installed, painting, and some plumbing/electrical work done at the same time. His crew worked well with all the other outfits. More importantly, Oliver's guys were PERFECTIONISTS — total evenness of the spacing and tightly woven seams. They were real craftsmen. It was a pleasure to work with them.

Chris K.
Amherst, MA
My wife and I owned a home in the Elmwood neighborhood of Berkeley that was in desperate need of a new exterior. I researched several contractors and brought them all out for an estimate. All responded on a timely basis but Govers Sidewall Shingling stood out as the obvious choice. Oliver was friendly, attentive, professional and did EVERYTHING he said he would do. He showed up on time, worked quickly and efficiently and never tired from the job or the "surprises" that inevitably show up when you open up an old house. For example, one potential major setback occurred when during the inspection process we were required to add a layer of flame proof board to the entire side of the house because of the proximity to the neighbor. Oliver took it in stride, took the time to do the work and kept going till the job was perfectly done. My only regret is that since we've sold the property and moved east we don't have G.S.S. to hire again if the need occurs.

Jennifer C.
Moraga, CA
Oliver and company did a beautiful job replacing our old ugly shake siding with lovely cedar shingles. They removed the old shake siding cleanly, cleaning up every day which was important since I have young kids running around. He even alerted us to some potential water damage and leaking that they discovered during the removal process – catching what could have been a potential big problem down the road. The shingles were placed by hand, with great attention to detail. We got 3 quotes on our project and his was the middle price, very competitive and a great value compared to the other quotes. Oliver is a very nice guy, and very easy to work with – very trustworthy and you can tell he cares greatly about his work and your project. We are very pleased with our new exterior and the work he did!

Robert L.
Oakland, CA
Govers Sidewall Shingling has installed sidewall shingles on several of our projects over the last few years. He and his crews are always pleasant and their work perfect, they leave a clean job site at the end of the day, every day. The finished product is always outstanding.
Oliver is a hands guy, he is involved on every project personally.
Robert L.
Owner , Capo Mastro Group

Mario S.
Oakland, CA
I am the owner of a local high quality remodeling company that has been using Govers Sidewall Shingling for over 20 years. He is one subcontractor that I do not have to worry about. He is on the job himself, has high standards, uses top quality shingles, and once he starts completes the work without interruptions. If the job is large, he can bring in skilled shinglers to help. If the job requires unusual layout or patterns, he can handle that as well.
If there are details to work out -and there usually are in remodeling- he has good ideas and is willing to spend the time to arrive at a good solution. I recommend him highly.

Nate D.
Berkeley, CA
Best shingle work in the bay area.  They re-shingled our entire 100 year old house.  Price was very fair,  even cheaper than the option of replacing the shingles with new synthetic siding.   A true craftsman.  We found that details really matter with shingles.   Oliver and his crew pay attention to every detail – corners where the shingles meet, edging around windows, and overall aesthetics.   Quality of the actual shingles they use are top notch, noticeably more solid and appealing than the crap you get at home depot.   Just take a smell of the shingles they use and you'll know it's better than the stuff most others use.
Work was done on time and on budget.  Many friends that visit see the before and after and compliment the shingle work.  Even contractors that come by comment on the quality of the shingles, definitely a good sign.  Oliver even came back to reshingle a small area around a rooftop patio that we removed recently.  All beautifully done.

Christian V.
Berkeley, CA
A true master of his craft. Oliver installed cedar shingles on the gabble wall of our Victorian house. He matched the original teethed design and formed curved edges around the window.
Apart from the stellar aesthetics, Oliver also installed additional horizontal 2×4 slats underneath the shingles, in those gaps that are often found in older houses. This sustained the stability of the attached shingles and will contribute to a durable installation. Of course, he uses only high quality, 60 min water resistant Jumbotex building paper, and was able to add some extra insulation upon request.
The experience we had was great, the price extremely fair, and the quality outstanding. I highly recommend Govers Sidewall Shingling and will hire them again for any future shingling projects.

Kevin C.
Berkeley, CA
Govers put new shingles on the north side or about 1/4 of our 95 year old craftsman before we bought our house.  The quality of the work is exceptional.
We didn't know it was Oliver that did it and when we bought the home.  When looking around town to find someone to replace the shingles on the south side we saw a beautiful job in progress on the Episcopal church in Berkeley.  We saw his sign so called him up and he came by. Surprise surprise he was the guy who had repaired part of our home for the previous owner.
We were worried about cost as the work we saw by him was the best we've seen in town however when the bid came in it was a very reasonable price.
We can recommend him based on both the 5 year old shingles on our home that he did and our experience planning out the rest of the shingles on the home. He's a great guy.

Lawrence F.
Alameda, CA
Oliver Govers and his master craftsmen are first rate with respect to fine-tuned hand skills and even better, with respect to reliability, price and genuinely personable customer relations.
Oliver shingled our two story craftsman in Alameda four years ago and from first look to bid to finished job  –on time and on budget– working with him was an easy and pleasant experience. He minimizes stress and orchestrates his schedule effectively with other contractors as carpenters, painters etc.
He did not balk at all when I told him I wanted to use a white cedar, pre-stained shingle instead of the usual redwood that needs painting or staining later,  and he straight-up deducted his shingle material price from the bid and plunged into the job.
Oliver keeps a close eye on things and is his own toughest critic. Everyone I know, from neighbors to high end contractors marvel at his work. He is the best in the biz, bar none.

Mark L.
Berkeley, CA
There is a very good reason (actually many good reasons!) that all the people who have used Govers Sidewall Shingling give him 5 stars, as do I.
We contracted with Govers Sidewall Shingling to re-shingle our entire house; the work was completed 5/2015. Oliver and the shinglers that work for him,  Danilo, Jarol, and Killo, are really artisans and take great care and pride (rightfully so!) in their work; they are also genuinely nice people and were easy to work with. I am very, very detail-oriented which has previously been a major source of conflict with contractors. This is the first time I have found no flaws in work I have contracted out. The whole organization is detail-oriented, professional, and knowledgable about the art of shingling.
Regarding cost: I had three quotes for shingle replacement and found Oliver's pricing to be similar to the other quotes; I find this truly amazing considering the quality of the work and materials..
Regarding Materials: Oliver buys his shingles in bulk from a small mill in Washington state that fabricates shingles from reclaimed cedar. If you are interested / concerned about sustainable forestry this is a unique benefit that Oliver provides. The quality of the shingles is top notch, too.
Regarding the shingles: They are beautiful, and so much better looking than about 95% of the shingled houses around this area.
Most contractors don't know how to properly shingle. Shingling is expensive and uses a lot of wood; you should do it right so it will look good and last a long time. I wholeheartedly recommend Oliver and his whole crew!

Michael B.
Kensington, CA
I used Oliver to redo the shingles on my home 2.5 years ago.  The experience was top notch from start to finish.  Everything was done as promised and as scheduled.  The work is beautiful.
I found Oliver and his crew to be thoughtful and interested in working out optimal solutions to the nuances of the project.  They even did a few extra things (fixing some anomalies) that they noticed, which I hadn't, without extra charge.
In the intervening time period, Oliver has been available to answer followup questions and has made a few useful recommendations.
He's "the man."  Hire him.
Michael B.

Edward L.
San Francisco, CA
Govers Sidewall Shingling was worth the find after extensively searching the Internet for a specialist in sidewall shingling. The shingles on our very old house in San Francisco had curled at the edges and some had gone with the wind.
Browsing Govers' website, the projects listed under the "Our Projects" tab were impressive and showed the quality craftsmanship that we were looking for. We wanted our shingles siding done correctly by an expert, and Govers grew on us the more we studied the website. We were completely sold when we drove to one of his projects and spoke to the owner
Oliver Govers, owner, was one of the easiest contractors we worked with. He was very professional, listened attentively, and made suggestions that eased our concerns re: cost. His staff knew what they were doing, and the workmanship showed when the project was finished. Our neighbors were glowing with praise on how good the house looked.
If you need an excellent house doctor to fix your shingles, we highly recommend Oliver Govers.

Adrienne M.
Lafayette, CA
We had Oliver Gover's company reshingle the upper floor of our home with painted cedar shingles to match existing, as the old ones were falling off due to faulty installation practices. I had done a couple of house remodels myself on previous homes, and have had many people from various construction companies work on my house projects over the years, but the only person who has ever followed through on everything he promised, without a single hassle, is Oliver Govers. He even did a little extra, fixing the roof shingles that had been pulled off by a tree for a reasonable T&M fee. His work ethic and his craftsmanship, his team and a great price made our re-shingling project a breeze. Oliver will show you what needs to be done and explain every step if you care to understand. He is personable and really made us feel like he cared about our house. A gem. Don't bother looking elsewhere if you need shingles installed.

Noah K.
Berkeley, CA
We used Govers Sidewall Shingling to reshingle our four level 1909 Berkeley Arts and Crafts brown shingle house. They did an outstanding job. It was not a straightforward project; there were discovered conditions which required attention, difficult details to resolve, coordination with other trades (including carpenters, window installers, gutter replacement and painters) whose work needed to be scheduled as part of the shingling project. Oliver and his crew went over and above what was expected in order to coordinate and run the project efficiently. The change order work for concealed conditions was very reasonable and in spite of it all he finished per his schedule. We are very pleased with the results. Many people have walked by and commented on what a beautiful job it is. Oliver is a true craftsman.

Dean B.
Oakland, CA
I was very surprised to read the one less-than-stellar review about Govers Shingling, especially considering that Oliver Govers is considered to be the premier sidewall shingler in the Bay Area and San Francisco.  I should know – I'm a painting contractor in the East Bay and ALL of the local builders use and recommend Oliver for their clients and friends, without exception.  Oliver is one of those old-fashioned contractors that handles most of the work himself with a few long-term employees helping with the demolition and larger projects.  He is quite popular and the wait for availability can become an issue for some potential clients – this is always the downside of popular contractors.  I'm not sure what happened with "Nancy H." in the previous review, but I do know that Oliver is an exceptional contractor that sets the standard (among all the builders and contractors I know) for shingle replacement, attention to detail and  workmanship.
Last note:  As far as I can tell, he doesn't advertise (unbelievable) other than his own website.   His long-standing relationships with most of the larger local builders, contractors, previous clients and architects (+ word of mouth referrals) seem to always keep him busy.
Dean B.